We currently offer beginner's classes in German longsword, the primary weapon of the Kunst des Fechtens system.
We require anyone who is new to HEMA (Historical European Martial Arts) to take one.
The beginner's class heavily features proper bio-mechanics, footwork, getting to know the sword, and,
at the end of the course, each beginner can try their new skills in our Rookie Tournament.
All the gear you need is provided for you - masks, swords, gloves, etc.
All you need to do is show up in comfortable gym clothes.
The classes start at 8:00 pm on the first Monday of January, April, July, and October
and run, on Monday, for eight (8) weeks.

Please try to arrive 15 minutes early so we can start class on time.
The cost for the beginner's class is $120/person.
A family discount (for 2 or more people) is available. Please contact us for the discount.
Registration
To register for the Beginner's Longsword Class,
click on the picture below and you will be taken to our registration site.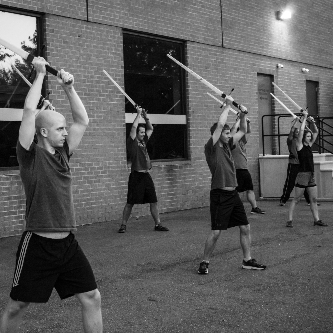 Register now for Maryland KdF's Beginner Longsword Class!
Schedule
Below is a rough schedule of what you will encounter in the Beginner's Class. Be aware that order and topics may change depending on the needs and abilities of the beginners. In general, however, we will try to stick to this schedule.
Day 1: History, footwork, getting to know the sword, and basic guards
Day 2: Long edge cuts - introducing Oberhau, Unterhau, and Zornhau
Day 3: Short edge cuts - introducing Shielhau
Day 4: Ribbons, flourishes, and moulinets - starting to put it together
Day 5: Cutting at odd angles - introducing Zwerchhau
Day 6: More odd angles - introducing Krumphau
Day 7: Binding, winding, and Schietalhau
Day 8: Sparring games and Rookie Tournament
Rookie's Tournament
The Rookie's Tournament is the traditional ending to a beginner's class at Maryland KdF. It stems from historical examples within German fechtschulen. Here, we use it as a measure of the skills you have gained over the course of the class, as an introduction to tournament fighting, an introduction to sparring, and as a passage through to becoming fully fledged club members.
The rules are based off of a mixture of historical rulesets regarding tournament fencing. Some of the rules include: head-only targeting and point scoring, no wrestling/grappling/ringen, and no running in (attempting to wrestle). The only weapons used are longswords - this tournament is supposed to be a pure test of fencing. Your opponents will not only be your classmates, but other people in the club as well.
This tournament is not mandatory, but it is a whole lot of fun.
We hope to have you train with us!
Your Beginner's Class Instructors
Jess Rozek and Stuart Lacy
Jess created the current curriculum a couple years back and it was based upon another curriculum used by Jake Norwood, formerly of Maryland KdF. She has since tweaked it some based on the needs of her students and location limitations. The schedule that is in use currently has been vetted over many beginner's classes. It allows for flexibility on the part of the students and instructors so that the students receive the best learning experience we can give them.
Stuart has been helping teach the beginner's class with Jess almost since its inception in 2014. He figured that by teaching the basics, he would learn the basics (he was right). Now, he is a dedicated officer and instructor.
All instructor photo credit goes to Archie Brown. Email him at archimedes.brown@hotmail.com.